Save Time With Quality Frames Delivered Ready For Installation
Satie fabricators create custom aluminum frames using the highest quality materials from North America and around the world. Our Satie Systems are designed to help you save time with maximum space optimization, easy setup, and long-lasting durability.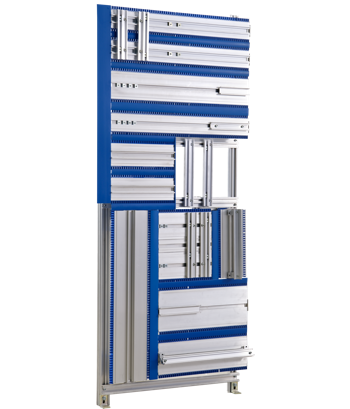 A robust solution for that offers superior wire handling for medium-to-large control panels
Proclip frames are assembled using an easy snap-in solution. The wires are routed on the side using U-shaped brackets that come in two sizes to allow for any depth requirement. As a single unit, the Proclip solution is usually used for enclosure sizes starting at 20" x 20" x 8" up to 98" x 98" x…
For modular applications, the frames are bayed together just like the enclosures, and convenient side covers handle the wires in between bays. The unique Proclip design also allows for back-to-back application in dual-access cabinets when you have a panel on both the front and back.

A light-duty solution perfect for small-to-medium enclosures as well as intricate layouts
Prolight frames are assembled using custom spacers that come in 5mm (⅕") increments for accurate depth adjustment from 10mm up to 160mm. The Prolight frames are light and designed to accommodate your smaller boxes, improving accessibility and available space.
The Prolight solution is meant for boxes from 4" x 4" x 6" up to 48" x 36" x…
Both our Proclip® and Prolight® products allow you to install various configurations of Din-mounted and screw-mounted devices. The convenient wiring combs keep wires organized right in front of the device connection points for easy wiring, marking, and troubleshooting.
With Satie's systems, you can free yourself from the constraints of the wire duct, allowing you to better optimize your panel space. Our products also offer better access and heat dissipation to your components.
In most cases, your frame will be delivered assembled, eliminating the need for tedious, time-consuming mechanical work before wiring. Easy access to components and convenient wiring combs saves time on completing connections.
Contact a Satie Expert today for seasoned advice on which solution is better suited for your application.
Delivered Ready to Install
and Use
Our aluminum frames are shipped pre-assembled and ready to install without drilling or tapping. You can securely screw-mount or snap the components into place. Easy wire routing enables you to connect everything through the front of the unit. You'll be ready to go in a matter of minutes!
Aluminum electrical frame installation has never been easier!
Satie delivers an unparalleled customer experience by making the process as easy as possible! It only takes three simple steps to get the exact frames you need for your application, delivered completely assembled and ready to install without tapping or drilling.
No Drilling Or Tapping – Quality Custom Aluminum Frames Ready To Go in Minutes!
Start saving time, money, and space now with Satie North America
Call (647) 477-2433 today or complete the form below to experience the Satie difference. Our team will contact you within 24 hours for a non-obligation discussion!